Quality
Care Quality Commission
The practice is registered with the Care Quality Commission and meets all the standards set out by them which have been compulsory since 2011.
iComply
The practice belongs to iComply - a management system that helps us to keep abreast of regulatory change and pursue the highest standards of patient care, saftey and infection control to deliver a service that is accessible and effective for all.
Complaints & Comments
We listen to our patients and welcome all feedback. If something's not right we want to know so that we can look into it, learn from it and improve. We operate a nationally recognised 'Complaints Policy' which is posted on our notice board, is available at Reception or to download from this website. Simply go to the 'Downloads' window on the homepage for a copy.
Denplan Excel Accredited
Denplan Excel is a rigorous practice-wide quality assurance programme. The last inspection was in November 2018.
Infection Control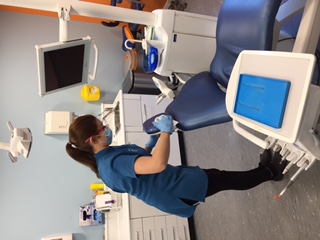 Infection Control is an umbrella term that refers to the processes and protocols we follow to ensure that we do not put our patients or our team at risk of contracting an infection.
Our Practice Manger will be happy to answer any general questions you have.
Statement on Infection Control and COVID-19
The practice is following all advice from NHS England and Public Health England. To avoid patient contact appointment times are staggered and public facilities like waiting rooms and toilets have been withdrawn. Entry to the premises is by appointment only. Masks are worn by staff and must be worn by patients. Staff temperatures are recorded at regular intervals through the day and patients' temperatures are taken on entry to the building. Door handles and other surfaces are regularly disinfected.
When many dental treatments are performed a fine wet mist called 'aerosol' is created. This lingers in the atmosphere and is a potential transmission route for Covid if inhaled. For this reason, all surgeries that have been used for a procedure that generates aerosol are left fallow (locked and unattended) for an hour after completion of treatment before being deep cleaned including the disinfection of the floors with a chlorine solution.
Listed below are some of the many protocols we follow day in, day out, to protect you and us from potential harm...
Every time a patient leaves a surgery everything is wiped down - the chair, spittoon, light etc - with antibacterial wipes.

After use, dental instruments are immediately submerged in water filled airtight containers ready for safe transport to the decontamination room

Clinical staff change their face masks and latex-free nitrile gloves after each and every patient.

Wherever possible we use 'single use' items. Examples are disposable napkins and plastic cups which are immediately thrown into clinical waste after use.

We have a dedicated, purpose built Decontamination Room where instruments are disinfected then sterilised in sealed pouches using 'hospital-quality' autoclaves.

All sterile instrument are kept in pouches and are date stamped to record the date the contents were sterilised and a 'use by' date.

All the appliances used to decontaminate and sterilise instruments are subject to continuous performance monitoring and are inspected, tested and validated annually by the manufacturers.

Surgeries and the Decontamination Room are deep cleaned at the end of every day and the floors mopped with a specialist solution.

Water is regularly tested practice wide for purity and the Practice follows national guidelines for legionella testing with records kept.